Celaena Sardothien is Adarlan's most feared assassin. As part of the Assassin's Guild, her allegiance is to her master, Arobynn Hamel, yet Celaena listens to no one and trusts only her fellow killer-for-hire, Sam. In these action-packed novellas - together in one edition for the first time - Celaena embarks on five daring missions. They take her from remote islands to hostile deserts, where she fights to liberate slaves and seeks to avenge the tyrannous. But she is acting against Arobynn's orders and could suffer an unimaginable punishment for such treachery. Will Celaena ever be truly free? Explore the dark underworld of this kick-ass heroine to find out.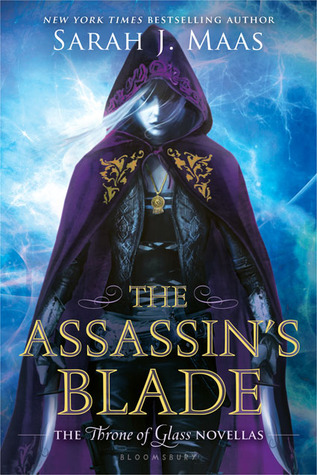 The Assassin's Blade by Sarah J. Maas
Prequel Novellas 1-5 of the Throne of Glass series
YA/High Fantasy
3.5 out of 5 Stars
Novellas have become the new thing in YA fiction in the past few years.With the torturous waiting period readers are forced to endure between new books in a series, short stories featuring our favorite characters are generally appreciated. The Assassin's Blade, as a collection, sets itself apart from other such novellas. With five novellas in all, originally released individually in e-book form, The Assassin's Blade has an overarching story that takes up as many pages as any other book in the series. Combined, the novellas of The Assassin's Blade make up a novel on its own, while still being able to (mostly) stand on their own as novellas.
While this is a prequel to the Throne of Glass series, it was published after the second book in the series, Crown of Midnight, and it's best to read the series in order of publication. There's certainly nothing wrong with reading this before the other books in the series, but I think some of the events in The Assassin's Blade will make more sense once readers have come to some discoveries about Celaena's character in Crown of Midnight. For readers of the series who weren't the biggest fan of Throne of Glass, I wouldn't recommend picking up The Assassin's Blade. The ending of The Assassin's Blade can be guessed by anyone who has read Throne of Glass, and there isn't much added to the series as this isn't meant to be a compulsory read one needs to pick up to continue on with the series. The novellas are mostly fun adventure stories.
The Assassin's Blade shows the progress Maas has made as a writer. One of the main problems with Throne of Glass is Celaena's characterization. We get told a lot about how Celaena is such an awesome, badass assassin but we don't really see that shown in her actions. The Assassin's Blade almost seems like its entire purpose is fleshing out her character, while telling an action-packed story in the process. For fans of the Throne of Glass series, this is a great read to save for when you're waiting for the next installment in the series to be published... but it's not at all necessary to read. Overall this was an exciting installment and I'll be interested to see if some of the characters from these novellas show up in later books in the series!