Note: I'll be linking to Barnes & Noble instead of Amazon for US buyers because of the recent conflict between Hachette and Amazon. Some of these books are not available on Amazon because they are published by Hachette and Amazon is choosing to (inappropriately) delay deliveries of books from this publisher.
The Casual Vacancy by J.K. Rowling
Goodreads
|
Barnes & Noble
|
Book Depository
When Barry Fairbrother dies in his early forties, the town of Pagford is left in shock.
Pagford is, seemingly, an English idyll, with a cobbled market square and an ancient abbey, but what lies behind the pretty façade is a town at war.
Rich at war with poor, teenagers at war with their parents, wives at war with their husbands, teachers at war with their pupils ... Pagford is not what it first seems.
And the empty seat left by Barry on the parish council soon becomes the catalyst for the biggest war the town has yet seen. Who will triumph in an election fraught with passion, duplicity and unexpected revelations?
Rebel Spring (Falling Kingdoms #2) by Morgan Rhodes
SYNOPSIS MAY CONTAIN SPOILERS FOR THE PRECEDING BOOK.
Auranos has fallen and the three kingdoms—Auranos, Limeros, and Paelsia—are now united as one country called Mytica. But still, magic beckons, and with it the chance to rule not just Mytica, but the world...
When the evil King Gaius announces that a road is to be built into the Forbidden Mountains, formally linking all of Mytica together, he sets off a chain of events that will forever change the face of this land, forcing Cleo the dethroned princess, Magnus the reluctant heir, Lucia the haunted sorceress, and Jonas the desperate rebel to take steps they never could have imagined.
Thanks to Marwah for sending me this!
The Curse of Chalion (Chalion #1) by Lois McMaster Bujold
But it is more than the traitorous intrigues of villains that threaten Cazaril and the Royesse Iselle here, for a sinister curse hangs like a sword over the entire blighted House of Chalion. And only by employing the darkest, most forbidden of magics can Cazaril hope to protect his royal charge -- an act that will mark him as a tool of the miraculous . . . and trap him in a lethal maze of demonic paradox.
A Monster Calls by Patrick Ness
The monster showed up after midnight. As they do.
But it isn't the monster Conor's been expecting. He's been expecting the one from his nightmare, the one he's had nearly every night since his mother started her treatments, the one with the darkness and the wind and the screaming...
This monster is something different, though. Something ancient, something wild. And it wants the most dangerous thing of all from Conor.
It wants the truth.
Thanks to Cooper for sending me this!
The Rithmatist (Rithmatist #1) by Brandon Sanderson
As the son of a lowly chalkmaker at Armedius Academy, Joel can only watch as Rithmatist students study the magical art that he would do anything to practice. Then students start disappearing — kidnapped from their rooms at night, leaving trails of blood. Assigned to help the professor who is investigating the crimes, Joel and his friend Melody find themselves on the trail of an unexpected discovery — one that will change Rithmatics — and their world — forever.
William Shakespeare's The Jedi Doth Return (William Shakespeare's Star Wars #3) by Ian Doescher
Return to the star-crossed galaxy far, far away as the brooding young hero, a power-mad emperor, and their jesting droids match wits, struggle for power, and soliloquize in elegant and impeccable iambic pentameter. Illustrated with beautiful black-and-white Elizabethan-style artwork, these two plays offer essential reading for all ages. Something Wookiee this way comes!
Thanks to Quirk Books for sending me this!
The Woman Who Would Be King by Kara Cooney
An engrossing biography of the longest-reigning female pharaoh in Ancient Egypt and the story of her audacious rise to power in a man's world.
Hatshepsut, the daughter of a general who took Egypt's throne without status as a king's son and a mother with ties to the previous dynasty, was born into a privileged position of the royal household. Married to her brother, she was expected to bear the sons who would legitimize the reign of her father's family. Her failure to produce a male heir was ultimately the twist of fate that paved the way for her inconceivable rule as a cross-dressing king. At just twenty, Hatshepsut ascended to the rank of king in an elaborate coronation ceremony that set the tone for her spectacular twenty-two year reign as co-regent with Thutmose III, the infant king whose mother Hatshepsut out-maneuvered for a seat on the throne. Hatshepsut was a master strategist, cloaking her political power plays with the veil of piety and sexual expression. Just as women today face obstacles from a society that equates authority with masculinity, Hatshepsut had to shrewdly operate the levers of a patriarchal system to emerge as Egypt's second female pharaoh...
Thanks to Random House for sending this to me!
Blue Remembered Earth (Poseidon's Children #1) by Alastair Reynolds
One hundred and fifty years from now, in a world where Africa is the dominant technological and economic power, and where crime, war, disease and poverty have been banished to history, Geoffrey Akinya wants only one thing: to be left in peace, so that he can continue his studies into the elephants of the Amboseli basin. But Geoffrey's family, the vast Akinya business empire, has other plans. After the death of Eunice, Geoffrey's grandmother, erstwhile space explorer and entrepreneur, something awkward has come to light on the Moon, and Geoffrey is tasked - well, blackmailed, really - to go up there and make sure the family's name stays suitably unblemished. But little does Geoffrey realise - or anyone else in the family, for that matter - what he's about to unravel.
Eunice's ashes have already have been scattered in sight of Kilimanjaro. But the secrets she died with are about to come back out into the open, and they could change everything.
Or shatter this near-utopia into shards...
Books I Gifted Others...
Mother's Day Gift;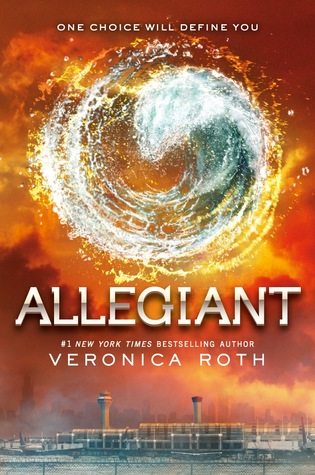 Allegiant (Divergent #3) by Veronica Roth [SIGNED]
Goodreads
|
Barnes & Noble
|
Book Depository
The faction-based society that Tris Prior once believed in is shattered—fractured by violence and power struggles and scarred by loss and betrayal. So when offered a chance to explore the world past the limits she's known, Tris is ready. Perhaps beyond the fence, she and Tobias will find a simple new life together, free from complicated lies, tangled loyalties, and painful memories.
But Tris's new reality is even more alarming than the one she left behind. Old discoveries are quickly rendered meaningless. Explosive new truths change the hearts of those she loves. And once again, Tris must battle to comprehend the complexities of human nature—and of herself—while facing impossible choices about courage, allegiance, sacrifice, and love.
Brother's 9th Birthday;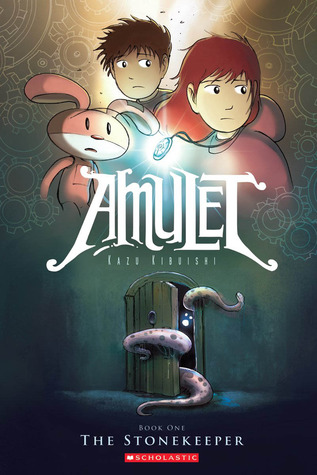 Amulet Book One: The Stonekeeper by Kazu Kibuishi
THERE'S SOMETHING STRANGE BEHIND THE BASEMENT DOOR...
After a family tragedy, Emily, Navin and their mother move to an ancestral home to start a new life. On the family's very first night in the mysterious house, Em and Navin's mom is kidnapped by a tentacled creature. Now it's up to Em and Navin to figure out how to set things right and save their mother's life!
Amulet Book Two: The Stonekeeper's Curse by Kazu Kibuishi
Emily and Navin's mother is still in a coma from the arachnopod's poison, and there's only one place to find help: Kanalis, the bustling, beautiful city of waterfalls. But when Em, her brother, and Miskit and the rest of the robotic crew aboard the walking house reach the city, they quickly realize that seeking help is looking for trouble, dangerous trouble.